2020 Sires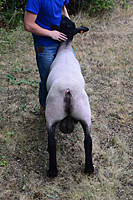 Baglien 16760 B

ull of

J

ackson

C

reek


Click Here To View Extended Pedigree
We believe Baglien 16760, 'Bull', to be among the thickest, heaviest-boned, and most structurally correct Suffolk rams in the U.S. today. Of exclusively American breeding, he is a linebred descendant of our great long-time stud, Slack 8222 'Dreadnought.' Bull represents the fullest expression yet of our objectives in producing heavily-muscled, commercially-valuable Suffolk sheep. He has fully justified our expectations, predictably passing on his traits to his offspring.
---
Kimm 14015


Click Here To View Extended Pedigree
We were very pleased to acquire 14015 from Bob Kimm late in the season, as part of Bob's flock reduction. 14015 was easily our favorite in the Kimm stud battery, and Bob retains both a son and a maternal brother. This sire offers great top thickness (REA at 135# just under 4 sq. inches), superior growth (106# at 60 days of age), clean lines, and correctness.
---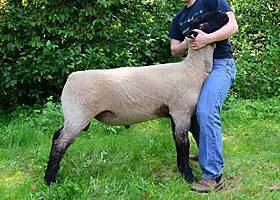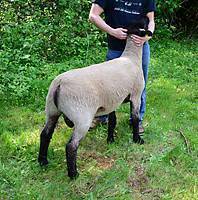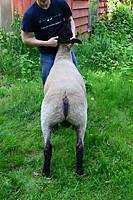 Slack 4202


Click Here To View Extended Pedigree
We acquired Slack 4202 for his outstanding hindquarters - tremendous length was a bonus. He is a well-balanced ram, combining thickness, structure, and profile. Neat and clean through the chest floor while deep in his rear flank, he is square in his rack and massive through the leg and stifle. 4202 sires on these characteristics in his lambs.
---