Recipes
General Comments
Good lamb should be cooked in a manner similar to good beef. Many cookbooks (especially older ones) recommend cooking lamb to at least "medium" or even "well-done" – wrong, wrong, wrong! If you like rare or medium rare beef, cook your lamb the same way.

Lamb is higher in satiety than beef (that is, it creates a pleasant sense of fullness more quickly). For this reason, serving sizes for lamb can be 20% to 40% smaller than for beef – a nice advantage for those counting calories.

Following are some "family favorite" recipes:

Leg of Lamb
1 French-style (showy!) or American-style lamb roast, 5-6 lb.
4 cloves garlic
Butter, softened

Cut garlic into slivers. With a sharp knife, piece leg of lamb and insert garlic slivers. Rub all over with butter. Roast uncovered in a 325º oven or (better!) on a covered gas grill (we use a Holland) until a meat thermometer inserted close to the bone reads 140º, about 1½ – 2 hours. This will result in a platter of carved roast ranging from medium well to rare.
Serves 8-10.
With first-rate lamb, simplicity is often best. This recipe is hard to beat.


Lamb Chops
8 loin or rib chops
¼ c. extra-virgin olive oil
¼ c. lemon juice
1 tsp. chopped fresh rosemary

Mix oil, juice, and rosemary. Baste both sides of chops. Grill about 9 minutes per side for medium-rare. Baste again when the chops are turned.
Serves 4.
Another exercise in simplicity, and equally tasty.


Creamy Brie Lamb Chops

8 lamb rib or loin chops
2 tsp. salad oil
½ tsp salt
¼ tsp pepper
1 cup dry white wine
2 Tbsp. minced shallots
9 oz. plain Brie cheese, w/ rind removed

Sear lamb chops in oil until well-browned on all sides. Reduce heat and continue cooking until medium rare, about 10 minutes. Season with salt & pepper. Remove chops from pan and keep warm.
In the same pan, add white wine and shallots. Simmer until reduced to ¼ cup. Cut Brie into cubes, add to the wine and shallot mixture. Stir over medium heat until melted and smooth.
Serve over spinach seasoned with butter and salt and pepper. Spoon Brie sauce over tops of the lamb chops.
Serves 4.
This recipe, prepared with our own Suffolk lamb, was Reserve Champion at the 2007 Oregon State Fair. Adapted from a recipe that originally appeared in the May 2001 issue of The Shepherd.


Juniper Lamb Chops
8 lamb rib or loin chops
8 juniper berries
½ c. lemon juice
2 tsp. Dijon mustard
½ tsp. ground dried rosemary
½ tsp. salt
¼ tsp. freshly ground black pepper

Mix all ingredients and bag in zip-locks, squeezing out air before sealing. Place in refrigerator for 1-3 hours, turning bag occasionally. Grill about 9 minutes per side for medium-rare.
Serves 4.
This recipe works well with a "mixed grill" of lamb and beef. Adapted from a recipe that originally appeared in the April 2001 issue of The Shepherd.

Lamb Shanks in Foil
4 lamb shanks
1 Tbsp. herbs (thyme, basil, rosemary, and/or marjoram, according to preference)
1 tsp. fine-ground pepper
1 tsp. salt
1 can tomato sauce (preferably unsalted)
½ bottle dry red wine

Lay each lamb shank in the center of a rectangle of heavy-duty aluminum foil. Form a "pan" of each piece of foil around the shank. Season the shanks, and then pour the tomato sauce and wine over them. Seal the foil tightly. Place the foil-wrapped shanks into a shallow baking pan and bake at 325º until tender, 2 hours or longer
Serves 4.
Lamb shanks are served like individual legs of lamb, and are a very nice "special occasion" meal. One of the beauties of this recipe is that it is not very time-sensitive – good for a dinner party where guests might be late!


Sate Kambing (Indonesian Lamb Kebabs)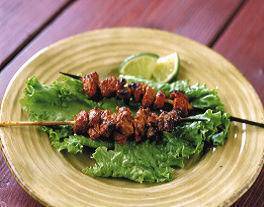 2 lb. boned lamb
2-4 Tbsp. Sate seasoning – available from Penzeys
(see http://www.penzeys.com/cgi-bin/penzeys/p-penzeyssateseas.html )
2 Tbsp. water
2 Tbsp. rice vinegar
3 Tbsp. soy sauce
3 Tbsp. peanut oil
12 10" bamboo skewers

Place bamboo skewers into water to soak. Combine Sate seasoning and liquid ingredients in a bowl. Cut meat into ¾ inch cubes (if starting with frozen lamb, it is easier to cut in a partially-thawed state). Mix thoroughly with the seasoning blend and cover; if partially-thawed, can be left on the countertop, if fully thawed, place in the refrigerator. Let stand for 2 hours. Fire grill to very high heat; place meat on skewers and grill both sides until brown.
Serves 4.
This is a recipe to serve to people who "don't like lamb." (Just don't tell them what it is until they've been raving about it for a while.) Adapted from a recipe developed by the Penzey Company.