ewes
Baglien 15786 x Mc 11-23 daughter
DOB 1/9/16 - $400
Triplet
RR NN

A coming three-year-old out of a Slack 14202 son, she sells exposed to Baglien 16760. This ewe has two unassisted lambings to her credit and offers an attractive look from the side and this year's daughter is in the keeper pen. Combines good top shape and touch with muscle expression.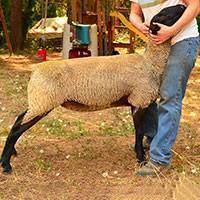 Baglien 14753 x Mc 11-23 daughter
DOB 1/21/17 - $400
RR NN
Twin

A yearling ewe offering a lot of extension, she sells bred to Slack 14202 due the week of Thanksgiving. Square and correct on her corners, she had a single as ewe lamb this past year.
Kimm 14015 x Baglien 14753 daughter
DOB 2/13/18 - $325
RR NN
Single

Due to Kimm 14015's late arrival from Iowa this past fall, we only had a limited number of lambs out of him in the 2018 season and this is one we've decided to make available. This ewe lamb offers a really cool look from the side with good stifle expression, length, balance, and stifle expression.